What is staff leasing?
Staff leasing is where companies partner with a 3rd-party that will handle the administrative aspects of employment, such that the 3rd-party is the legal entity that employs the staff. This is similar to seat leasing where a company that already has the infrastructure in place, will lease the use of that infrastructure to other companies. In the case of staff leasing, that infrastructure is the HR, payroll, and other employment-related processes; in the case of seat leasing, the infrastructure is the IT and telecommunications equipment only.
Depending on the need of the client, staff leasing companies can either provide the employees using their pre-existing pool of candidates, or the client company can handle the recruitment efforts while the staff leasing company handles the compensation and other sundries. Thanks to the scale of staff leasing outsourcing companies, they are in a position to offer more competitive benefits, such as lower-cost healthcare plans, to which smaller companies would not have access to. In turn, clients not only save on administrative costs, but the cost of an employee turns into a single line-item for easier accounting.
Benefits of staff leasing
1. Flexibility & Growth
Staff leasing gives you more breathing space in terms of dividing tasks and deciding on a budget. This will allow your business to grow in the right direction because you'll have more sense of which tasks are prioritized and not.
2. Cost & Budget
Not only do you achieve flexibility and growth demands, you do so in a low-cost environment. Saving on direct and indirect staff costs such as payroll, HR, engagement, facilities, and benefits.
Keep in mind that just because you're spending less does not mean that you're getting subpar work. You will have highly specialized staff recruited specifically for their skillset as an integral part of your team.
3. Framework
One common concern for a startup or SME is the structure of their HR department. This department often gets overlooked in the early phase of a company's lifecycle, yet it is one of the most important parts of a company.
With a PEO provider, you get access to their existing HR framework & process driven management culture for a seamless HR process.
4. Work Efficiency
The tasks allocated to your offshore staff leased team will leave your local office (s) more streamlined and efficient. You can place more focus on the critical growth functions of your business. The back-office and high volume tasks are now handled via your PEO provider.
5. Experienced Staff
Now that you have an established HR policy through a PEO, your business will attract top talent. Attracting talent is one step forward, the next step is retaining it. Numerous engagement activities will also be used by the PEO to retain your team of talented individuals on your behalf.
Bosnia-Herzegovina has emerged as a new "outsourcing hotspot" over the past decade. The country's growing talent pool of young highly skilled multi-lingual professionals, together with low labor costs has attracted a growing number of foreign investors and global BPO providers, who have established business centers in Bosnia-Herzegovina or entered into partnerships with the country's growing number of locally owned and operated BPO service providers.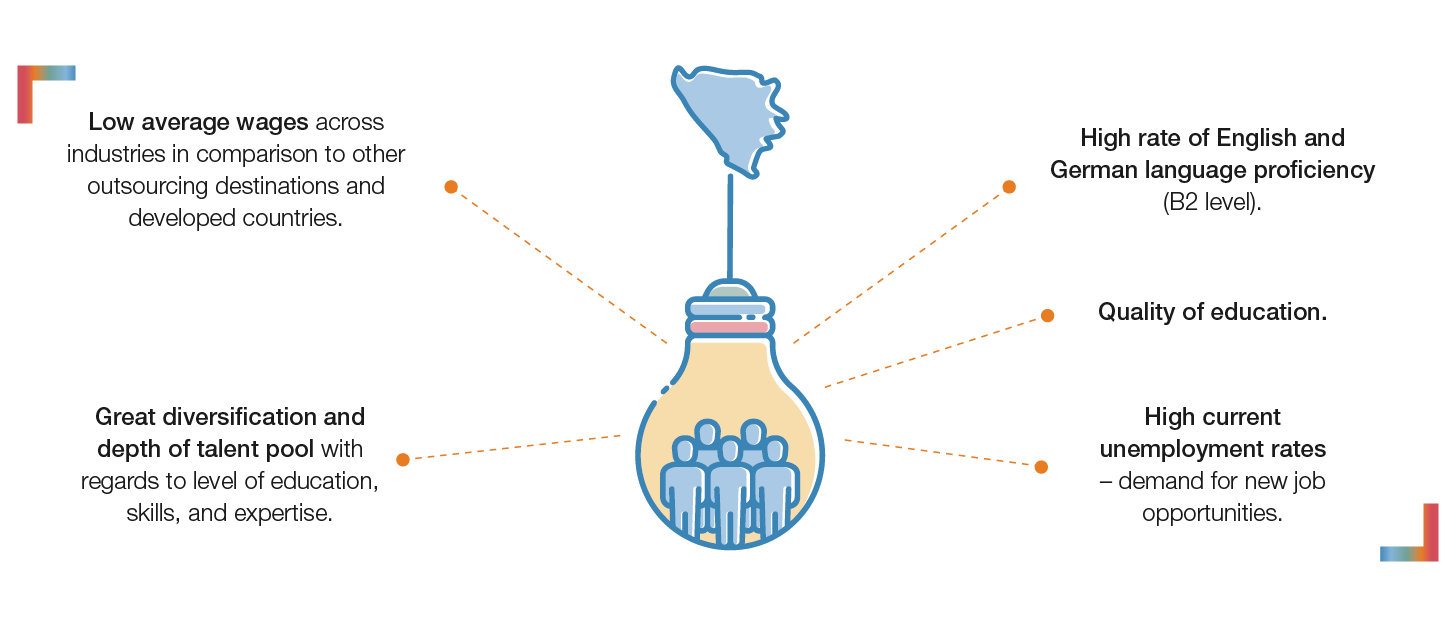 Restart's Matchmaking
There is no need to waste time on analysis, shortlisting, and researching potential partners. Restart does all that for you, pairing you with the perfect match. Based on our data-driven input and advice, you can make an informed decision before moving forward.We will match you with experts that have been assessed and quality assured by Restart. Only a small percentage of experienced companies with strong referrals have been accepted into Restart's network.
Restart can help match you with domestic companies, and provide the best, customized solutions. Just follow the steps and tips in this article, and you'll be all set to outsource your finance department.Once you have the right service provider and the right set of tools, you'll enjoy all the benefits financial services outsourcing can offer you before you even know it! 
Learn more about outsourcing/investing in Bosnia and Herzegovina?  Click HERE
What is Restart.ba and its matchmaking service? Click HERE