This year, Restart organized our fourth Leader workshop with Canadian Ivey Business School, made possible thanks to the support of the U.S. Embassy and the Women's Empowerment Grant. 
The workshop was held in a hybrid format, with 17 participants attending lectures in person from our favorite lectures site HUB387, while instructors joined in from Canada and the U.S. via Zoom. 
In the spirit of the Women's Empowerment Grant, 10 participants were women and two of the best business pitches were female-owned startups. A total of 12 business pitches were presented to the panel of judges, and these top-three businesses were awarded based on their strong presentations:
Aida Kosović won first place with her startup idea of NORMA Consulting, which provides legal services to SMEs and companies that do not have in-house counsel.
Zvonimira Jakić

won second place with her startup idea GREEN solutions, an innovative idea for a portable green laboratory that measures humidity and soil temperature, air pollution, wind and weather, energy efficiency and provides everyday status of the field.

Mak Lončar

won third place with his application GOTOUR, a virtual, real-time city guide phone app, providing users with an affordable guide at any time and place.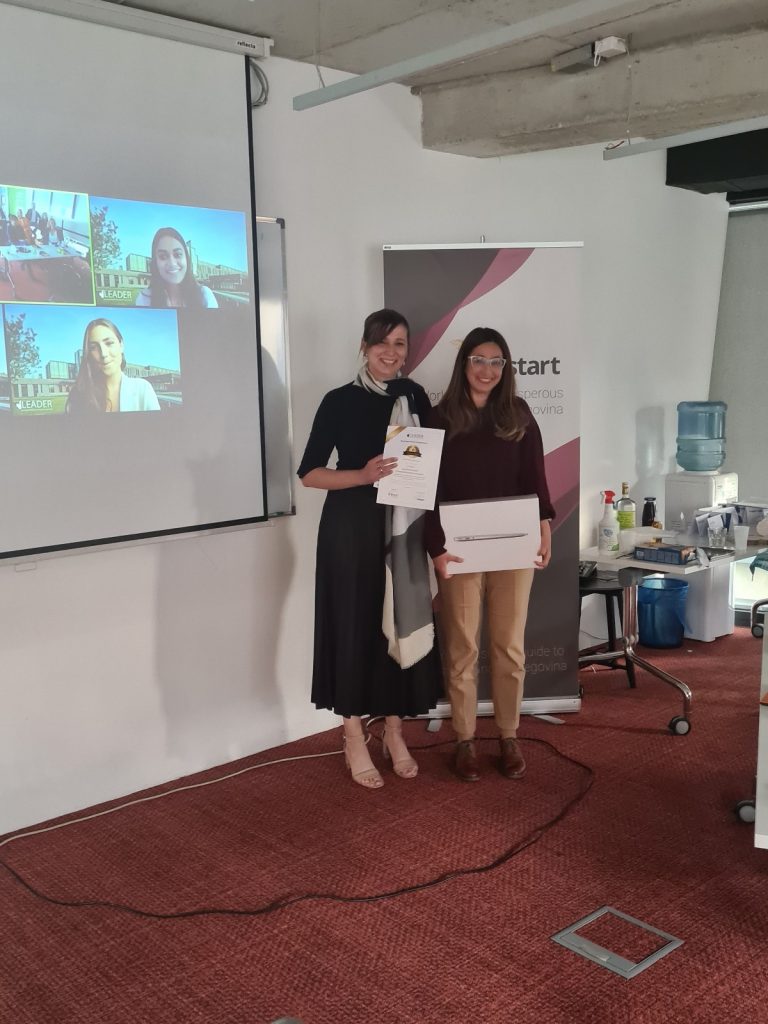 The first-place winner received a MacBook Air, and second and third place each received an iPad.
Participants had the opportunity to meet successful local startup owners and we would like to thank Erna Šošević, and Marijana Klapić for the time and energy they invested in sharing their entrepreneurial journey, tips and tricks. 
Also, our Management Board Member Nick Žigić delivered a fascinating lecture on financial projections (not many people can do this), and we all enjoyed exploring his vast hospitality industry knowledge and his peculiar entrepreneurial mindset. 
Participants had additional learning moments with our guest judges, in particular, Samira Nuhanović from Sofhouse Balkans, Belma Alagić from the Ministry of Programming and Erna Šošević from Bizbook.ba. We thank everyone for helping to ensure our program was versatile, and we hope to see these ideas in action, implemented in practice and scaling up. 
Thank you to all everyone who participated and helped to make Leader 2021 in Bosnia and Herzegovina a huge success!