MBA-style Entrepreneurial Program in Sarajevo (May 4-15, 2020)
Every year in May, Restart successfully organizes a 10-day entrepreneurship MBA-style program with the prestigious Ivey Business School at Western University (Canada). So far, the program was attended by 80 participants, most of whom were representatives of small and medium-sized companies.
The LEADER Project, hosted by Restart and facilitated by Ivey Business School, empowers promising entrepreneurs in Bosnia and Herzegovina to learn business fundamentals, build business plans, and bring their business ideas to life.
Learn business fundamentals throu
gh the following modules: New Venture Creation,
 Business Strategy, 
Marketing Strategy and Tactics, 
Operations, 
Entrepreneurial Finance (Financial Statements & Cash Flow), Go-To-Market Strategy, 
Managing People, Communications, and B
usiness Plan Development.
LEADER has helped transfer business leadership and analytical skills hundreds of participants globally, many of whom have since propelled their careers, expanded their business or launched new ventures.
Ivey in the Rankings
► In 2010, Ivey became the first North American business school to offer the prestigious CEMS Global Alliance in Management Education, joining the likes of the London School of Economics, HEC Paris, ESADE and Bocconi University
► Bloomberg Businessweek ranked Ivey's MBA program as the # 1 international MBA program (outside the United States) two years in a row
► Ivey ranked #1 in the 2015 recruiter survey for Bloomberg Businessweek, Ivey's MBA graduates ranked first in leadership skills, strategic thinking, collaboration and communications skills. These were among the mostwanted and hardest-to-find skills sought after by employers
► According to the 2016 Financial Times ranking, Ivey's MBA program boasted the highest recorded salaries three years after graduation of any Canadian business school and scored top marks for career management service satisfaction
► The Executive Education program is ranked # 1 in Canada by the Financial Times
► The Economist ranked its MBA program 2nd in Canada
► Medal – In 2015 Ivey received a bronze medal in the Nurturing Employability category at the prestigious Wharton-QS Stars ReImagine Education Awards
► Medal – Ranked Top 10 in the World for Alumni Network
This project is supported by the WOMEN'S EMPOWERMENT SMALL GRANTS PROGRAM: The program supports initiatives designed to promote women's leadership and the political, economic, and social advancement of women across Bosnia and Herzegovina.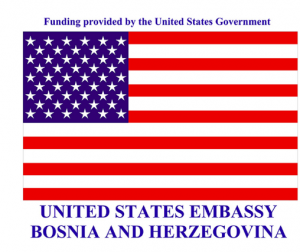 2020 program was funded by a grant from the United States Department of State.
The opinions, findings and conclusions stated herein are those of the author[s] and do not necessarily reflect those of the United States Department of State.